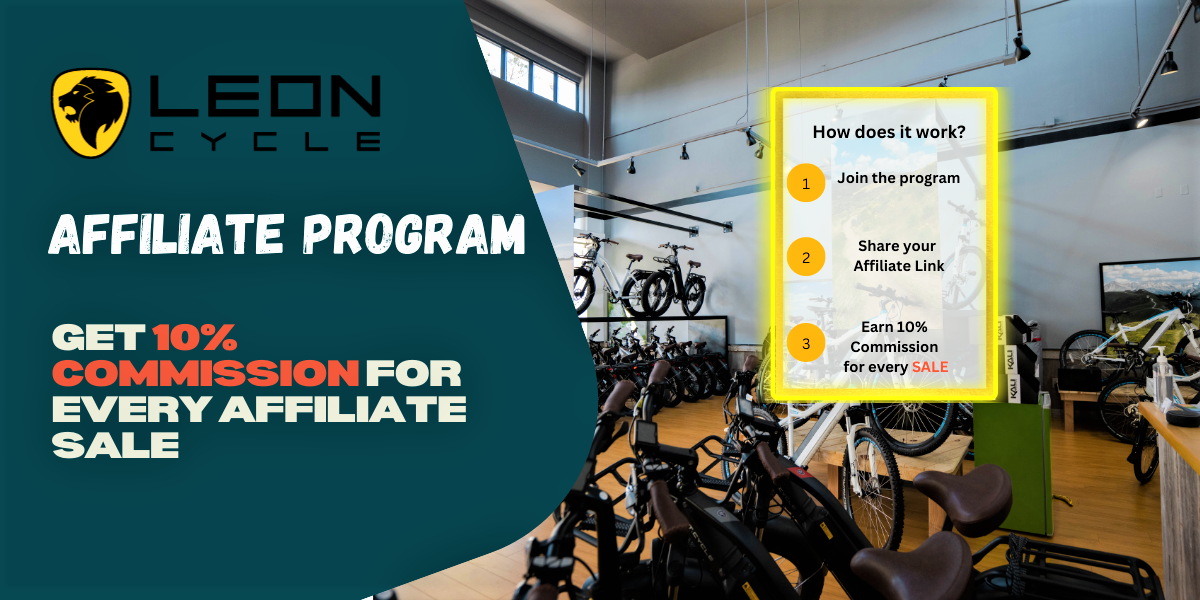 Dashboard
Spread the word on social
Let your followers know all about your love for our electric bike on your media channels.
Publish educational content
Do you run Podcast, Website or Youtube channel? Promote our ebikes and brands with your unique link and earn unlimited.
Run digital campaigns
Promote banner ads and other digital content using your affiliate link on Facebook, Google, Instragm, Tiktok, Newsletter etc.
Introduce your clients to Leon Cycle
Are you an agency or freelancer? Do you have your own business?
Recommend your clients about our electric bikes and earn more.
Terms and Conditions
This agreement describes the terms and conditions for participation in the Leon Cycle affiliate program. In this agreement, the term "Affiliate" refers to you (the applicant). By applying to the Leon Cycle Affiliate Program, you are confirming that you have read the agreement and agree to the terms and conditions.
Approval or Rejection of the Application
We reserve the right to close the account(s) of any Affiliates, if you attempt to use the Leon Cycle Affiliates Marketing in a questionable manner or breaches any of these Terms & Conditions or is in violation of any law, statute, or governmental regulation.

Leon Cycle reserves the right to disqualify affiliate commission earned through fraudulent, illegal, or overly aggressive, questionable sales or marketing methods.
Commissions
Refer any customer to make a purchase on our website, you will get a commission amount which is calculated based on Commission structure. Commission amount is dependent on order value which will not include extra fee (tax, shipping cost).
Payments
Payments will be process at the end of every month.

Payments will be paid out via PayPal,

provided to us when you join.

If your PayPal email changes, it is your responsibility to update your details to ensure proper commission payments.
Refunds
In the event a customer requests a refund for a transaction for which the Affiliate has earned commissions, any commissions earned on the refund amount will be deducted from the Affiliate's balance.
Marketing
You can free to promote Leon Cycle on your Website, YouTube, Social medias, Forum etc. But affiliates are prohibited to modify the Brand Logos and Trademarks.

You are prohibited to promote the affiliate program in any dark web, or illegal websites.

Send Spam Emails is inappropriate and unacceptable to us and constitutes a material breach of this Affiliate Agreement.

Additionally, you may not advertise in any way that effective our brands.
Cookies
Affiliate links rely on cookies to track sales. Incorrect use of affiliate links will make it impossible to track references and in turn, track and approve your commissions.

Cookies used as part of the affiliate program have 60 days from the time of customers first click. Only users who make a purchase while their cookies are active will be considered referrals of the affiliate and be recorded as sale.

If a potential customer clears their cookies during this period, we will not be held responsible for the fact that the commission will not be traced to you and consequently no commission will be recorded nor approved.
Modification
We may modify any of the terms and conditions within this Agreement at any time and at our sole discretion. These modifications may include, but not limited to changes in the scope of available commissions, commission schedules, payment procedures and Affiliate Program rules.